If you are coming from London, Ignore your shortest route given by your GPS as the GPS doesn't know that the bridge is OUT. Take Hwy 73 south from the 401.
10 minutes south of Aylmer on Hwy 73 is Port Bruce. As you travel down Hwy 73 you will see a big sign in the village of Copenhagen.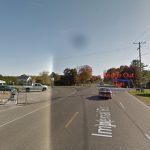 The sign says that the bridge is out. Ignore the sign.
Yes the bridge is out but the marina is BEFORE the bridge.
So go past the sign and continue down Hwy.  73
Just as you reach the bottom of the hill is North Erie Marina and trailer park