Gramma Boop's Best Ever Pan Fried Perch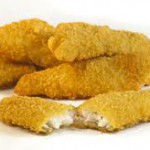 Serves/Makes: 6 servings
Ingredients:
6 perch, 
Vegetable oil or shortening
Salt and freshly ground black pepper, to taste
2/3 cup Gramma Boop's Perfect Fish Coating
 How to cook Pan Fried Perch:
Heat oil (1-inch) in 10-inch skillet over medium heat. Sprinkle both sides of perch fillets with salt and pepper.
 Dip fish into water and shake off excess (may use egg if desired)
Shake the fish gently in a Zip-loc bag with 1/2 cup of Gramma Boop's Perfect Fish Coating (Availabel from Chuck's Fishing Charters)
Add more coating as required (removing clumps as needed)
Fry fish in batches in oil 6 to 10 minutes, turning once, until fish flakes easily with fork and is brown on both sides. Fish cooks very quickly; be careful not to overcook.
Remove fried fish fillets with dotted spoons, drain on double layer of paper towels
Can be used for Trout or Pickerell too!
The Pan Fried Perch recipe is delicious, simple, and really easy to cook.